Tom Vear, Chair
Jack Lenten, Vice Chair
Tom Blake, Treasurer
Tom is the President/CEO of the U.P. Catholic Credit Union. He previously served on the Lake Superior Community Partnership Board and on the United Way Board as the campaign co-chair. Tom has been involved in numerous organizations benefiting local nonprofits and is a past. He currently serves on the executive committee of the Michigan Credit Union League U.P. Chapter. He was a member of the Kiwanis for many years and served as the pas KI Sawyer/Gwinn Kiwanis Club President. "Having served in various service clubs, nonprofit organizations and working with nonprofits over the years, I have learned how organizations serve a purpose in the community. When organizations work together, a stronger and healthier community is resulted."
Jim Hewitt, Secretary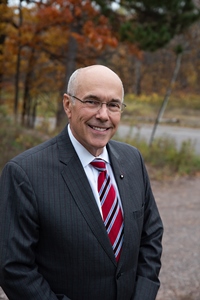 Mark Canale, Trustee
Mark Canale was born and raised in Marquette. He is a 1975 graduate of Marquette Senior High School, attended Northern Michigan University and graduated from the University of Minnesota in 1979 with a Bachelor of Science in Mortuary Science. He has been serving on the Embers Credit Union board of directors since 1995 where he was past board chair for over 12 years.  He has been actively involved with numerous other organizations including serving on the State of Michigan Board of Examiners in Mortuary Science, United Way of Marquette County board of directors, Lake Superior Life Care and Hospice board of directors, member and past president of the Marquette West Rotary Club, and a member of the Knights of Columbus.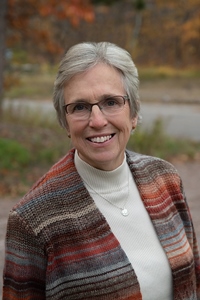 Maura Davenport, Trustee
Maura Davenport is known throughout Marquette County as a tireless volunteer and advocate. She currently serves on the grants committee for the Community Foundation and is chair of the board of directors of the Superior Watershed Partnership and Land Conservancy. She previously served as a trustee of the Marquette County History Museum, now Marquette Regional History Center.  She volunteers for the Citizen's Advisory Committee for Presque Isle, St. Vincent DePaul, Room at the Inn and St. Michael Church. Davenport has led efforts with several environmental initiatives in Marquette County, including the "red bucket" program with the Superior Watershed Partnership to help prevent cigarette butts from polluting Lake Superior. Working with Emily Whitaker of the Yellow Dog Watershed Preserve, Davenport also helped establish and expand the popular household battery recycling program in Marquette.
Trish Davis, Trustee
Trish Davis has called Marquette home since May of 2015. She was elected as to the Board of Trustees of the Community Foundation of Marquette County in 2017, having previously served on the Marquette Area Committee. She continues to serve on that committee and is a member of the Annual Celebration Committee. As an attorney with Kendricks, Bordeau, Adamini, Greenlee, & Keefe, P.C., Trish focuses her practice in estate planning, business law, and probate administration. She earned a bachelor's degree in Political Science and in Legal Studies from the University of Wisconsin-Madison, and a law degree from William Mitchell College of Law in Saint Paul, Minnesota. Trish resides in Marquette with her husband, Steve, and their dog, Gatsby. She is active in the community, including serving on the Economic Club of Marquette County's board.
Anne Giroux, Trustee
Anne Giroux has served as Marquette County Treasurer since July 2007. She previously served as Director of Finance and Human Resources for the Marquette County Road Commission and as Business Manager for the County's redevelopment of the former KI Sawyer Air Force Base. She has a Bachelor's degree in Accounting/Computer Information Systems and a Master of Public Administration degree both from Northern Michigan University. She serves as Chair of the Marquette County Land Bank Authority and Treasurer of the Marquette County Brownfield Redevelopment Authority. She also serves as President of the Michigan Association of County Treasurers, President of the Upper Peninsula Association of County Treasurers, Secretary of the Michigan Association of Land Banks and serves on the Board of Directors of the newly established Michigan Association of Brownfield Redevelopment Authorities. She is a member of the Ishpeming Downtown Development Authority and serves on the Neighborhood Improvement Committee for the City of Ishpeming. Anne has been involved with the Greater Ishpeming Area Community fund for 10 years, is an active member of Bethel Lutheran Church, and volunteers regularly for the Ishpeming Public Schools and Ishpeming Sports Booster Club.
Levi Giroux, YAC Rep.
Lisa Jahnke, Trustee
Lisa Jahnke is retired from Marquette Area Public Schools as a Special Education Teacher and Department Chair for 15 years. She currently works for Northern Michigan University as a Supervisor of Student Teachers. Lisa served on the School Improvement Team at MSHS for MAPS and served on the Board of the Superior Arts Youth Theater and the Grant Henrickson Foundation and Golf Outing. "Having served in various service clubs and having been a grant recipient over the years, I have learned how nonprofit organizations serve an important purpose in the community. When organizations work together, a stronger and healthier community is the result."
Alex Kofsky, Trustee
Alex Kofsky brings extensive nonprofit work experience to the Board of Trustees. He is the enterprise facilitator for Accelerate UP and owner of the Steinhaus Restaurant. He has also served as the Vice President of 40 Below Young Professionals, is a member of the Upper Peninsula Collaborative Development Council and a member of the Regional Prosperity Initiative. Alex serves on the Marquette-Alger CTE Committee and volunteers at the UP Children's Museum. "I am passionate about our community and ready to help in the area where my contribution will be the most valuable."
Lowell Larson Sr., Trustee
Lowell Larson Sr. is a lifelong resident of Marquette and is a retired industrial arts teacher and high school assistant principal from Marquette Area Public Schools. Aside from his lifelong education career, Larson is the owner of Lowell A. Larson Builders, Inc. Currently Lowell serves on the Board of Directors for the Economic Club of Marquette and is a former member of Marquette County Conservation District Board. "Being a resident of Marquette County my entire life gives me a unique insight into the needs of the community and its residents".
Don Mourand, Honorary Member
Fred Taccolini, Trustee
Sally Searle, Trustee
I was born and raised in Detroit and like most Northern Michigan University graduates, I stayed up here after I graduated in 1980.  That same year I went in for a haircut at The Lion's Den by a barber I had heard about, Scott Searle, and we've been together ever since.
I've had a diverse and exciting professional life!  After a very short stint selling Medicare Supplements (I was unsuccessful securing a job using my Accounting Degree), I went back to NMU and became a cosmetologist.  That was a great field that I thoroughly enjoyed until my retirement in 1997.
My husband and myself have been working side by side in the Food and Beverage business since 1989, having opened four Restaurants/Bar and Grills in Marquette County.  We are currently the proud co-owners of The Up North Lodge in Gwinn.
I have a wonderful family having been blessed with two amazing granddaughters and a fabulous step son (although he is truly a son to me).  My immediate family and in laws are very warm, kind people who have supported me in all of my endeavors.
I have a strong sense of community, having been involved in many organizations throughout the years.  One of my proudest is one of I've been a huge part of since 2011, UP Pink Power.  I look forward to this journey as a Trustee on the Community Foundation of Marquette County's Board.
Judy Vonck, Trustee
Susan Goodkind Wideman, Trustee