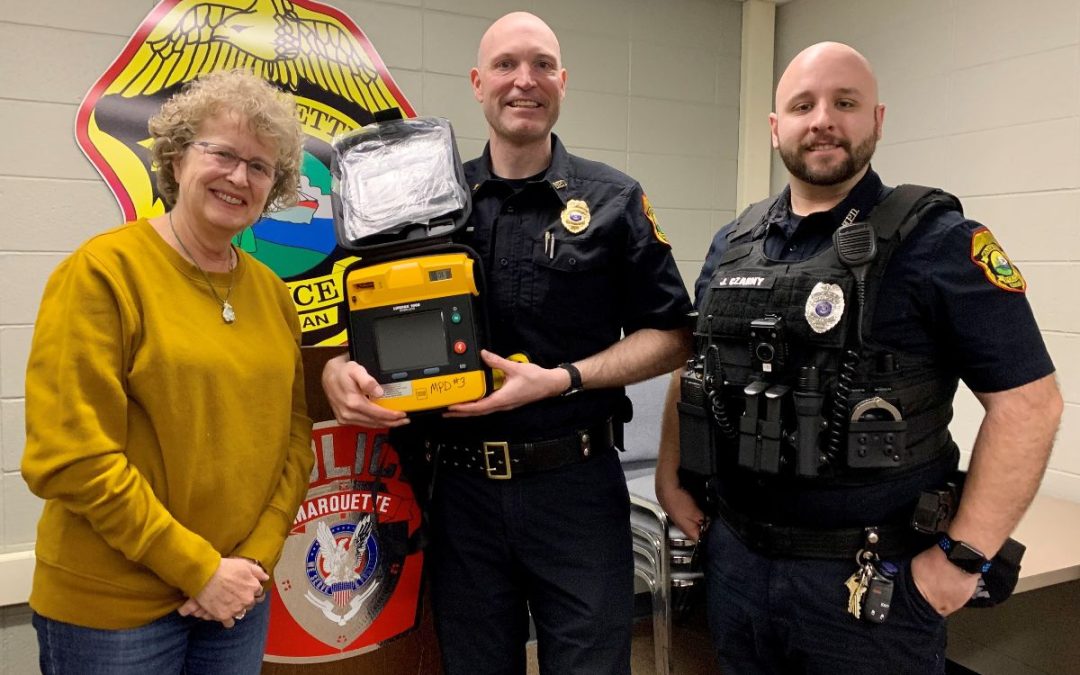 In 2021, the Jumpstart a Heart campaign was organized by the Marquette County Law Enforcement Administrators and Association (MCLEAA) and the Community Foundation of Marquette County to replace the automatic external defibrillators (AEDs) for law enforcement units across the county. The successful effort, which raised more than $107,000 to purchase 43 new AEDs and two trainer units, was supported by many individuals, businesses and funders. The campaign not only addressed the immediate need for equipment replacement, but also established an endowed fund to support the need in the future.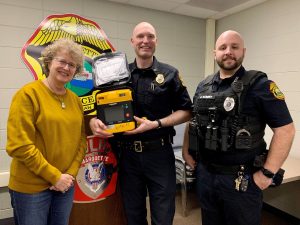 Patti Tourville, Chief Ryan Grim and Officer Jeff Czarny with an AED purchased
through the Jumpstart a Heart Campaign, which Patti and her family helped support.
Some donors, including Patti Tourville, were inspired to give to Jumpstart a Heart because someone they loved experienced a heart attack and they wanted to help save people's lives in the future. Earlier this year, Tourville approached the Community Foundation with a very special request. She asked to meet with some local officers who would be using the AEDs funded through the campaign, including the one funded by her in memory of her sister-in-law Sharon Rose Parish.
On April 13, Tourville met with City of Marquette Police Chief Ryan Grim and Officer Jeff Czarny for coffee at their office. Tourville shared that in 2006, Sharon was working out at a gym with her husband when she suffered a heart attack and later died.
After sharing her sister-in-law's story with them, Tourville reflected, "Sharon was a teacher. She made an impact on a lot of people. She would have wanted this to be a teachable moment."
Both men shared how essential AEDs are in their work, noting that every time a squad car goes out, there's an AED in it. Chief Grim said, "The donation of these AEDs is so helpful to us."
Officer Czarny told Tourville, "I can tell you personally that the AED you donated is on the road every day. If something were to come up, it is needed and it is there. These machines are invaluable."
Chief Grim shared that Marquette County officers are trained once every year in the use of AEDs. He commented, "If you have people who can understand how to use the equipment, you can save lives. When we show up on a scene, people expect us to know what to do. It's our job to know what to do. These AEDs make our lives a lot easier. They give guidance to us as we hook them up and walk us through [the process]."
Every AED funded in the campaign has a small plaque with the donors' names, including the Tourville Family's. Chief Grim commented, "We live in a small town, and we recognize the names [on the plaques] sometimes. I like the plaques. They're a good reminder to the officers how important the AEDs are and that they mean something to somebody."
"We strongly believe in supporting our community," Tourville responded. "Thank you for letting me come and talk. Today would mean a lot to Sharon."
Expressing the Department's gratitude, Chief Grim told her, "A lot of people don't reach out to us like this. This is the first time I've had a conversation with someone who's a donor." This conversation clearly meant something to everyone in the room.