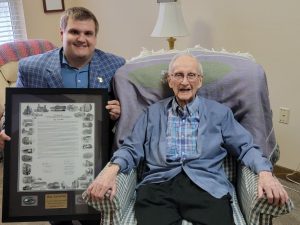 Ray Leverton with Jason Chapman, Ishpeming City Council member, displaying the tribute from the State of Michigan recognizing Ray for his lifelong service to the community.
Photo courtesy of the City of Ishpeming
Ishpeming lost one of its dearest community members on December 27, 2021. Ray Leverton, 92, was the quintessential community person — a volunteer and role model for everyone who wants to make a difference close to home.
Ishpeming Mayor Lindsay Bean noted, "Ishpeming is a better place for having had Ray Leverton. His contributions, and his dedication to the community, are unmatched." So beloved is Ray that the State of Michigan has designated September 9 as "Ray Day" — a day set aside "to be like Ray" and give back to the community. Ray was also presented with an American flag that flew over the U.S. Capitol, a State of Michigan flag that flew over the state Capitol, a certificate from U.S. Senator Gary Peters, and a State of Michigan tribute signed by Governor Gretchen Whitmer, Lieutentant Governor Garlin Gilchrist and Senator Ed McBroom. The tribute was presented to Ray by State Representative Sara Cambensy.
Ray lived a life of service to others, including serving in the armed forces and being a volunteer director and curator at the U.S. National Ski and Snowboard Hall of Fame and Museum. He was also a member of Ishpeming's Noon Kiwanis Club, the Ishpeming High School Alumni Association, Ishpeming Hematites Booster Club and Bethany Lutheran Church. During the last decade, he spearheaded a campaign to make building improvements at the Ishpeming Carnegie Public Library, raising nearly $600,000 for improving building accessibility, lighting, air conditioning and new windows.
Ishpeming City Council Member Jason Chapman, shared, "Ray was a man of deep faith, both in God and in his fellow citizens. He knew the value of doing good work and he taught that to so many of us. I was one of the lucky ones who got to watch Ray at work for three decades. He worked with my cousin, the late Wes Wentela, and, my mom, at the U.S. Ski Hall of Fame. One of the best things he ever said to me was 'In 30 years of work, Wes and I never had an argument — we just got along and worked together to get the job done.' That left a lasting impression on me — that as volunteers we should all work together and get the job done."
One of Jason's favorite memories of Ray is when they attended from the U.S. Ski Hall of Fame's Scramble Golf Outing at Wawonowin Country Club a few years back. "I was hopeful that my partner would be someone that I knew, or that I would enjoy golfing with. To my wondrous surprise, I was paired with Ray. I got to listen to stories from his childhood, stories about his wife, Betty and his kids, and stories about the community. I also remember when we turned the corner from the back nine to the front, I had a bad hole going, but it just didn't matter, because I was golfing with Ray."
"The community will miss Ray for his love, his decency and kindness towards others, and his selfless devotion to the city and school he loved. We are all better because of Ray, even those who didn't meet him. He made the community better. It's our job to pick up that mantle and continue to make Ishpeming a better place, because that's what Ray would want. He sat many of us down in the past few years to discuss projects that he wanted to see finished, so it's our job to ensure we honor him and make them a reality."
Special thanks to Ishpeming Mayor Lindsay Bean and Council Member Jason Chapman for their contributions to this story.