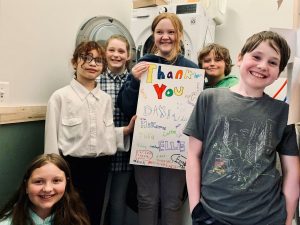 North Star Montessori Academy students, who are enjoying the school's
brand new laundry room, made a sign to thank the Community Foundation
and the donor who sponsored the project.
Finding solutions to community needs, whether they're large or small, usually takes time, hard work and persistence. Sometimes, generosity from unexpected places helps a lot, too.
Last November, the Community Foundation received a funding request from North Star Montessori Academy for a small, but important need. North Star is a Pre-K-12 public school in Marquette.
In 2019, Megan Coombs, a Pathways to Potential Success Coach employed by the Michigan Department of Health and Human Services, noticed that some students came to school with clothes that hadn't been washed or that had already been worn during the week. While most of us take being able to do our laundry for granted, Coombs noted, "Some families do not have the means to buy a washer and dryer or even to go to a laundromat."
What finally drove the need home for her was a third-grade student and her sibling, a first grader, who often came to school with dirty clothes or clothes that didn't fit them. She reached out to the students' family and learned about the specific hardships and challenges they were dealing with. She knew she had to do something to address the school's need for an on-site laundry room.
North Star serves a large number of families (56%) that are economically disadvantaged. In Marquette County, the overall poverty rate is 13.6 percent (an income of $27,750 or less for a family of four). Poverty means not being able to meet some of your family's basic needs, including laundry.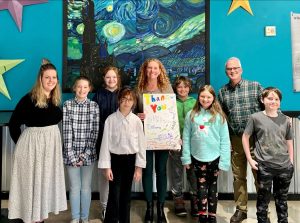 North Star Students with Pathways to Potential Coach Megan Coombs (left), Superintendent/Principal Andrea Ballard (center) and Dean of Students Dave Gilbert (right).
With support from the school's administrative staff, Coombs decided to raise funds to purchase a washer, dryer and utility sink for the school. The school first had to apply for a permit to install the appliances. In September 2021, North Star finally got the thumbs up to proceed with the project.
Coombs turned to the Community Foundation to fund the project, and the timing was perfect. Zosia Eppensteiner, Community Foundation CEO explained, "We were able to connect with an anonymous donor, for whom the project was a good fit." She continued, "By connecting a possible donor with a need, we can have an immediate impact on families and children right away — like the students at North Star. What's amazing with our work at the Community Foundation is we often discover there's a network of people and relationships who will be supportive around the needs of the community. And you never know what people in the community will connect with."
To complete the project, Coombs reached out to another donor to pay for the cost of plumbing. After supply chain and other delays, the washer and dryer finally arrived and were installed earlier this month. The kids and the staff at North Star are celebrating their new laundry room, which is decorated with thank you notes to the donors.
Coombs said, "This project has been a labor of love, from October 2019, when I first inquired about adding a washer and dryer into the school, until it finally being completed on April 14. In the first week we've had it, it's already been used four or five times. I'm super thankful that the donation came in to purchase the washer and dryer [so that we are able] to fulfill the needs of the children that are here."
Andrea Ballard, superintendent and principal at North Star added, "I think it's wonderful. It's something we've discussed for many years and for it to actually happen is great for our school and our students."