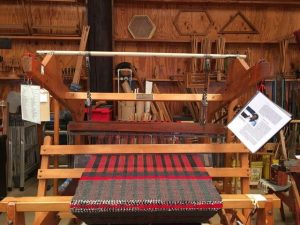 A loom made by Matt Riihinen in Negaunee during the winter of 1945-1946.
Photo courtesy of Christine Simonen
This loom has a fascinating history, and helped inspire the Johanna Pohjala Fund for Weavers, a field of interest fund established at the Community Foundation of Marquette County in 2003.
Johanna Pohjala (1919 – 2003) was born on Case Street in Negaunee. Her parents, Anna (Kotka) and Matt Riihinen were Finnish immigrants who settled on the Riihinen farm in Negaunee. Like so many immigrants to the area at the time, Matt worked in the iron mines to supplement their income from the farm. During the Finnish-Russian War in 1939, Matt received numerous donations of secondhand clothing from customers along his dairy route. The Riihinen's sent as much as they could to Finland, but much of it was of poor quality. Anna requested a loom to make rag rugs with the clothing. Matt, who was also a blacksmith and woodworker, built the loom almost entirely from lumber harvested on their property over the winter of 1945-1946.
Johanna was Matt and Anna's only child, and she graduated from Negaunee High School in 1937. She married Sulo E.Pohjala in 1941, and ten years later they moved to the Riihinen farm to help care for her parents. Johanna began weaving on the loom in 1952, and this began a journey of over 50 years weaving rugs on this loom.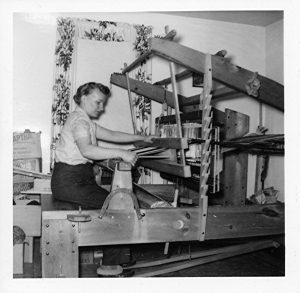 Johanna Pohjala on the loom in 1954. Photo courtesy of Christine Simonen
As a toddler, Johanna spent over a year traveling in Finland with her parents and stayed in contact with her Finnish cousins. Her Finnish background influenced her weaving, and the more she created, the more her craftsmanship was widely recognized. Orders for Johanna's rugs came from all over the U.P. and the country. As a member of the local weaving guild, Yarnwinders, Johanna explored different techniques and patterns in her rugs. In September 2000, Johanna was recognized with a Lifetime Achievement Award at the U.P. Weavers Exchange annual conference.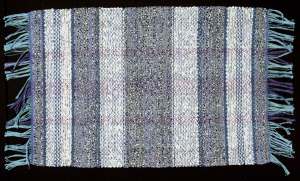 Johanna Pohjala, Rosepath Rug, Collection Michigan State University Museum
In the 1990's Michigan State University Professor Yvonne Lockwood travelled to the Upper Peninsula to interview rug weavers. Her research was published as a book titled, "Finnish American Rag Rugs: Art, Tradition & Ethnic Continuity". MSU Press published the book in 2010. Johanna was one of eight weavers featured in the chapter titled, "Weavers". The Michigan State University Museum holds some of Johanna's rugs in their textile collection.
Johanna was also a poet, educator, and traveler. A charter member of the Finnish Language Class in Negaunee, Johanna served as a substitute for well-known Finnish language educator Tanya Stanaway. Three more trips to Finland allowed Johanna to stay close to her Finnish family and heritage. She was a translator of family histories and correspondence for several different Finnish families. She was also a published poet, writing in both English and Finnish.
Christine Simonen, Johanna's daughter, established the Johanna Pohjala Fund for Weavers at the Community Foundation of Marquette County in 2003 after her mother's passing. The purpose of the fund is to create opportunities, for fiber artists and fiber arts education in Marquette County. This fund has supported Yarnwinders and Lake Superior Art Association to create educational programs and exhibitions around the tradition of weaving.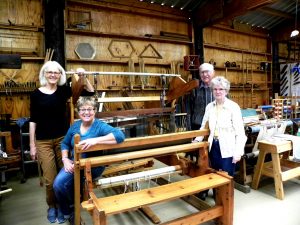 Christine Simonen (bottom right) with her husband Fred after delivering the loom to The Antique Gas & Steam Engine Museum in 2017. At left are Karen Greenly (standing) and Robyn Sendelbach (sitting).
And what about the loom? Christine took up her mother's interest in weaving but knew the loom needed a permanent home that would fully appreciate and care for this historically significant artifact. In 2017, the family donated the loom to The Antique Gas & Steam Engine Museum, in Vista, California. The Museum is a nonprofit that "collects, preserves and displays examples of mechanical ingenuity and crafts associated with the early days of the American farm and rural community". The loom is on permanent display with over 50 other looms from all over the country. The loom is still fully operational, and is utilized for demonstrations by museum volunteer weavers.