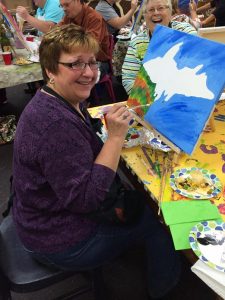 Pam served as a Trustee of the Community Foundation since the fall of 2013. She brought to the position her experience and knowledge of philanthropic operations and development and quickly embraced the philanthropic goals of the foundation.
"Pam was a dynamic and engaged Board Trustee who truly understood the positive potential that the foundation could have on the Marquette County community. This positive thinking was truly representative of Pam's orientation to her work and her life," said Gail Anthony, CEO of the Community Foundation. "Her commitment and positive energy are reflected in the courageous way that Pam dealt with the tragic illness that befell her that caused her to take a short leave to focus on her health and family."
"When I think about Pam Benton, I think of a servant leader," said Jack Lenten, CFMC Chair, "Pam was someone who had a positive impact both through and for others. Pam felt passionate about her family, friends and her community. We will be forever grateful for her service to the Community Foundation."
"Pam will be remembered for serving on the development and annual celebration committees where her leadership, attention to details, "can-do" attitude and endless lists helped make for wildly successful events. "Her contributions are immeasurable and her legacy of service will live on," said Anthony.
To make a gift in Pam's memory, click here.