Habitat Home Dedication in Ishpeming
In the Community Foundation world, it is very easy to get caught up in the details of operations, finance and fundraising. Last week I was acutely reminded that although important to our success, our true purpose can easily be forgotten, when planning annual celebrations and creating budgets. I was invited to attend a celebration and dedication of a recently renovated/rehab Habitat for Humanity home in Ishpeming. I put it on my calendar but when the day came it was very cold with a heavy wintery mix of snow and rain falling, I was less than excited about attending. The Greater Ishpeming Area Fund granted $1,500 to the Women Build Program to build a wheel chair accessible ramp for Patty Barry and her family. As I stood in Patty's new living room with no furniture and the smell of fresh paint, surrounded by her friends, family and community I was struck with a truer sense of community than I have ever witnessed. Patty's handicapped son was propped at the back of the room, his legs unable to help him stand. I was told he needed the ramp, so he could get himself into the house because he typically used his arms, not his legs, to get around. When Patty spoke, she described the pain of losing her husband last fall and the renewed hope she experienced when she took her first tour of the home. Even though she knew it needed a ton of work, she could finally feel a sense of hope and visualize moving forward with her son and daughter. Standing in her tiny dining area, she profusely thanked Habitat for Humanity, the Ishpeming Community Fund, the Community Foundation of Marquette County, her friends and family who all spent countless hours working alongside her to make this house a home. I stood there feeling very grateful to be a part of something so much bigger and important than anyone of us standing in that room. The power of community is so much more than writing a check. Today I am grateful to have participated in that very special dedication and have resolved to value the invitations to witness wonderful moments such as these. This is why we serve.
Sincerely,
Gail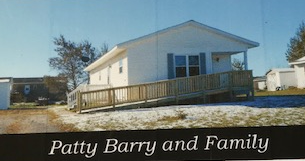 Community Foundation of Marquette County gathers feedback for improving Ishpeming
The Community Foundation of Marquette County had help from the Community Economic Development Association of Michigan organizing focus groups at Bell Memorial Hospital Wednesday, where Ishpeming community members answered a series of questions.
"What are the major problems and challenges the community faces, what would you like to accomplish in your community, and if money was no object, what would your dream be," asked Gail Anthony, CEO of the Community Foundation of Marquette County.The Community Foundation secured a grant through the Council of Michigan Foundations to help facilitate development in the county. The grant helps find funding from across the state that will then go to projects in the community."So while there are no dollars that are being expended right now, the plan is in the future to really see where the community foundation should be placing their dollars," said CEDAM executive director Jamie Schriner.Community members at the focus groups consisted of city officials, service providers, business owners, and youth and educational professionals. The most common issues brought up by the groups were blight issues, education, a need for community pride, and above all else, housing.
"A need for diverse housing, which we are hearing all across the state right now, and actually all across the country," said Schriner.CEDAM will write a report from Wednesday's findings within a month for the Community Foundation of Marquette County. The foundation then hopes to get to work with the Ishpeming community on securing funding for projects. They will then expand this process across the county."In the next year we'll be touching communities throughout Marquette County," said Anthony. "We've identified 10 or 12 that we'll be touching either in the dialogue dinner format or this community assessment format."
2018 Grant Distribution Event at Presque Isle Park a smashing success! 
The Community Foundation of Marquette County awarded over $73,000 in grant checks to successful applicants of the 2018 competitive grant cycle.   Community funds generated through a multitude of local donor gifts invested wisely over the last 30 years produced funds for Big Bay, Gwinn, Ishpeming, Negaunee and Marquette.
Grants from a number of these funds were distributed for varied projects throughout Marquette County.  115 applications produced a total 79 grants with projects ranging from an indoor rock-climbing wall for Negaunee Public Schools to funding for the Prime Time Family Reading Program at Peter White Public Library.  The new venue allowed easier access for media to grant recipients, resulting in two very nice articles in the Mining Journal and a story run by TV6.  It was a great opportunity for grant recipients to share their stories.  Please click here for a listing of the grants.