Negaunee library installs dropbox
The Negaunee Public Library has installed a remote dropbox at the Negaunee Township Hall along M-35. A ribbon-cutting ceremony was held Friday. The dropbox was made possible by grants from the Community Foundation of Marquette County, the Institute of Museum and Library Services and the Phyllis & Max Reynolds Foundation, as well as the hard work of the Friends of the Negaunee Public Library and the Negaunee Township staff. Patrons will be able to drop off their books and other materials at the new dropbox, which will be emptied on a weekly basis.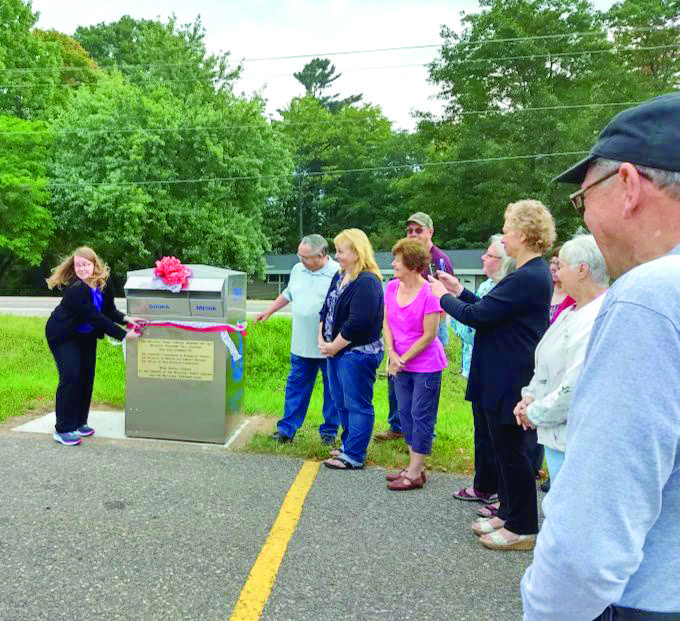 In the above photo, Library Director Jessica Holman cuts the ribbon on the new dropbox while Negaunee Township Supervisor William Carlson, Negaunee Township staff, Friends of the Negaunee Public Library, and Deb Biggs of the Library of Michigan look on.
Kids get new backpacks in K.I. Sawyer
About 50 kids got free new backpacks Wednesday evening at the St. Francis Connection Center in K.I. Sawyer. The kids, who were all grade schoolers and middle schoolers, were able to select the backpack of their choice once their number was drawn by one of the center's leaders, Father Al Mott. "Today was about getting kids excited about going back to school and helping parents to do that," Father Mott said. It certainly worked on Scott McConnell. The Gwinn Middle School 7th grader was proudly showing off his backpack, which was camouflage. "It does actually bring out the school spirit in me," he said. "Go Gwinn!" McConnell says getting enthused about returning to school can be a challenge for both students and teachers. "Sometimes school can actually be hard on the student and the teacher," he said. "Therefore, it makes it harder for both to actually get happy to go back to school." The backpacks were made possible by donations from parishioners and the American Legion, as well as a generous grant from the Community Foundation of Marquette County. All in all, Father Mott feels the mission of the event was accomplished. "Well, it was great, we had lots of volunteers, and we had good food, and root beer floats, which everybody seemed to love," Mott said, laughing. "So it was a great success."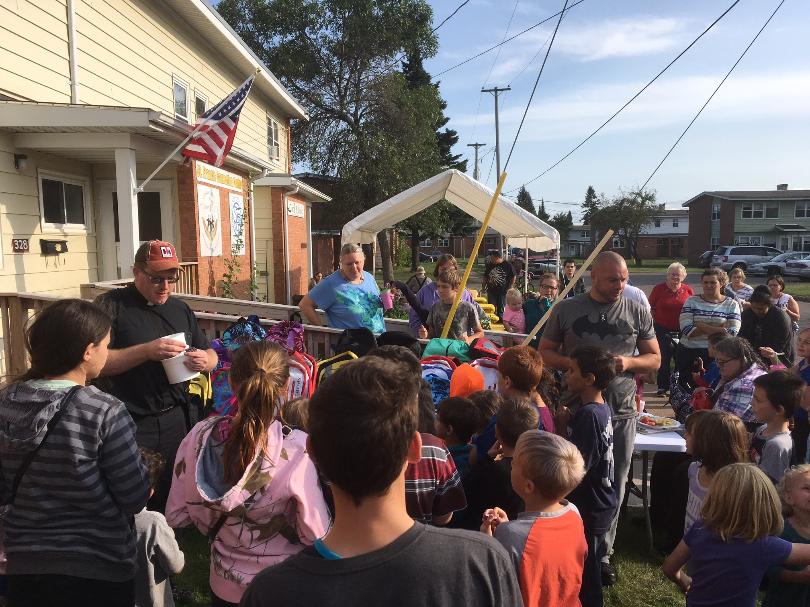 Let's Build Together this Summer!
Birds in Palmer had some new spots to nest Monday evening, July 17th. About 50 kids spent the day making birdhouses at the Richmond Township Library.
With some help from parents, kids attached wooden parts, sanded rough corners and decorated their finished birdhouses. The birdhouses didn't come with any specific kind of mounting, so the kids could choose where to put them.
"Some of them want to put them in their bedroom as decoration," Library Director Jan St. Germain said. "Some of them are going to take them out. You can put them on a pod, like a tripod, if you want. They can hang them in a tree, whatever they want. They can put their personal touch on how they hang them."
The library funded the event with a $1,000 grant from the Negaunee Area Community Fund, an affiliate of the Community Foundation of Marquette County. The grant also covers the library's entire summer reading program.