Healthy Living continues in Marquette County – MI Health Endowment
Healthy living will continue in Marquette County schools, preschools and day cares this year all thanks to a 100,000 grant from The Michigan Health Endowment Fund.
Marquette-Alger Regional Educational Service Agency (MARESA), and The Superior Health Foundation and the Community Foundation will be using the money to ensure the continuation of the PE-Nut Expansion Project (P.E.P).
The program is targeted at increasing fruit and vegetable consumption and physical activity of students in nine local elementary school and Early Childhood Programs in Marquette and Alger Counties.
As part of an in classroom component of the program a health educator visits the schools several times a year to ensure simple consistent messaging to motivate students. Students also get the chance to build their own healthy meals in those classroom settings.
The foundation's CEO, Gail Anthony, is confident the lessons will provide a unique spin on health education.
"They introduce them in a fun way, hands-on activities, it is increasing the use of healthy foods in the home," said Anthony. "It's a fun activity and it's a good outcome for the families."
A new feature of P.E.P. is the addition of a new target audience of four-year-olds and their parents, along with an increased role for area grocers and produce departments. They are calling it the "Healthy Heroes" component of the grant. Pre-schools will start distributing punch cards that entitles each child to one free fresh fruit or vegetable per month for six months at participating grocers.
Families of the pre-schoolers will have access to a P.E.P. web page that links the fruit or vegetable of the month with recipes, resources and fitness/activity ideas. Cards will be punched for all 6 months and turned in for one of five "Healthy Heroes" grocery store gift certificates in the amount of $100.00.
Five major grocers have committed to partnering with MARESA. Participating grocers include Tadych's Econofoods, Marquette, Super One, Negaunee, Jubilee Foods, Ishpeming, Larry's Foods, Gwinn and Family Fare Supermarket, in Munising.
Negaunee library installs dropbox
The Negaunee Public Library has installed a remote dropbox at the Negaunee Township Hall along M-35. A ribbon-cutting ceremony was held Friday. The dropbox was made possible by grants from the Community Foundation of Marquette County, the Institute of Museum and Library Services and the Phyllis & Max Reynolds Foundation, as well as the hard work of the Friends of the Negaunee Public Library and the Negaunee Township staff. Patrons will be able to drop off their books and other materials at the new dropbox, which will be emptied on a weekly basis.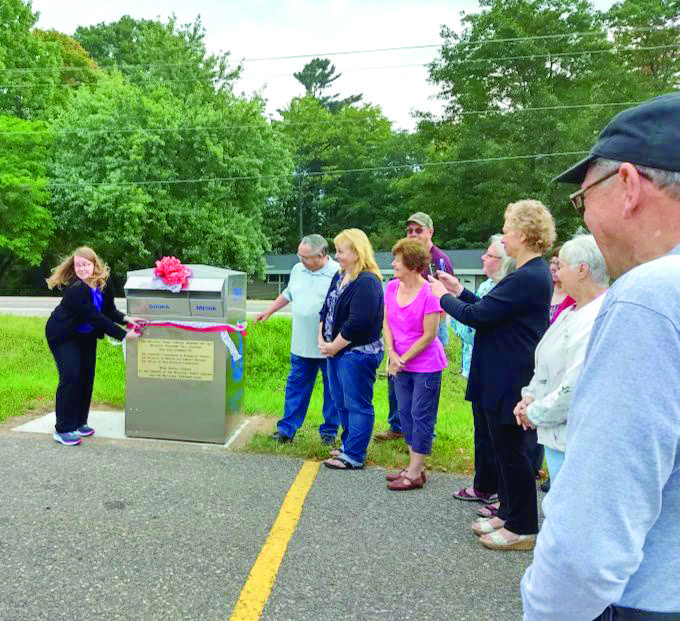 In the above photo, Library Director Jessica Holman cuts the ribbon on the new dropbox while Negaunee Township Supervisor William Carlson, Negaunee Township staff, Friends of the Negaunee Public Library, and Deb Biggs of the Library of Michigan look on.
Kids get new backpacks in K.I. Sawyer
About 50 kids got free new backpacks Wednesday evening at the St. Francis Connection Center in K.I. Sawyer. The kids, who were all grade schoolers and middle schoolers, were able to select the backpack of their choice once their number was drawn by one of the center's leaders, Father Al Mott. "Today was about getting kids excited about going back to school and helping parents to do that," Father Mott said. It certainly worked on Scott McConnell. The Gwinn Middle School 7th grader was proudly showing off his backpack, which was camouflage. "It does actually bring out the school spirit in me," he said. "Go Gwinn!" McConnell says getting enthused about returning to school can be a challenge for both students and teachers. "Sometimes school can actually be hard on the student and the teacher," he said. "Therefore, it makes it harder for both to actually get happy to go back to school." The backpacks were made possible by donations from parishioners and the American Legion, as well as a generous grant from the Community Foundation of Marquette County. All in all, Father Mott feels the mission of the event was accomplished. "Well, it was great, we had lots of volunteers, and we had good food, and root beer floats, which everybody seemed to love," Mott said, laughing. "So it was a great success."