Mentoring is Important!
I learned something about life last night. About what is truly important in the lives of our children as they grow up.
This is the 2nd April that I have made my way to Westwood High School for the Westend Gearbusters Robotics end of the year dinner. I enjoyed the wonderful homemade food and warm UP welcome I received. The students, parents and volunteers show up for this evening of recognition and appreciation to celebrate another successful year for the Gearbusters Robotics Team. The Greater Ishpeming Area Community Fund has granted to this organization; hence the invitation. Back to what I learned, First Robotics competitions impact includes participation in key STEM activities where students gain experience in a number of outcomes including 21st century work-life skills, leadership, innovation, and entrepreneurship. This group of 12 mightily engaged high school students surrounded by caring parents and volunteers, who obviously adored and respected them and their accomplishments, enthusiastically demonstrated the robot they constructed.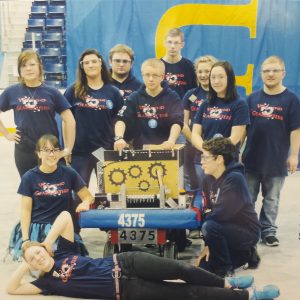 I was especially impressed with an elderly couple who led the festivities. A retired military gentleman and his life partner who give their time September to May each year to organize and run this privately supported organization. They mentor, recruit, organize, fundraise and tend to the countless details involved in bringing this team through a successful season.
This is what I learned:
1. Students appreciate when their parents are involved.
2. Volunteering to work with high school students is rewarding.
3. You are never too old to impact the younger generation.
4. The practice of apprenticeship is very important.
I am honored and grateful to be able to represent the Community Foundation at these types of events.  I encourage you to look around for volunteer opportunities and share your interests and talents with a young person.  Think about the many mentors in your own upbringing and take advantage of every opportunity to pass that along.
All the best,
Gail Anthony